800 SERIES

By Hans Schnepper and Mark Goffee



The 800 series were regular sized postcards of strictly American stars with the actors' names printed in a script font on front. The series numbering picked up almost from where the Ross Luxus postcard series had left off with #803. Lists commonly start the 800 Series with #805, as does this ad in a January 1937 issue of Die Filmwoche (see below.) For some time it was rumoured that there also was a #804 (Marlene Dietrich), but as yet no proof of its existence has been found.

The 800 Series did not have much in common with the previous Ross Luxus postcards, which were much larger, and included an international group of actors.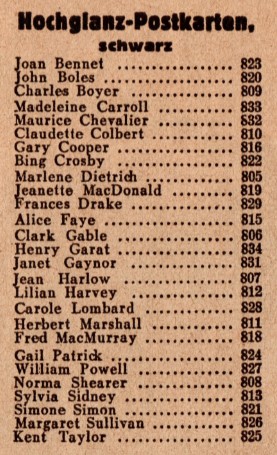 The 800 Series was advertised as Hochglanz, schwarz (glossy black and white.) The series was destined to be short-lived -- less than fifty cards. Postcard 846 (Terry Ray) was the last one published.

This is the chronolgy of the 800-series:

805 - 834 - Winter 1936
835 - 846 - Autumn 1937