Salvation



Luckily for Heinrich Ross, he was among the group of 276 passengers of the St. Louis who had been allowed passage to England as refugees, where they were able to avoid further German persecution. Heinrich spent three years in England, probably supported by the Jewish Refugee Committee. Finally, on October 6, 1942, he boarded the passenger ship the S.S. Pacific Enterprise in Cardiff England and crossed the Atlantic to America. On the passenger manifest, Henrich listed his nationality as "stateless" -- a man without a country. He listed his occupation as "none." The ship docked in New York City on October 29. By this time, Heinrich's daughter Edith had married Gerhard Pechner and were residing in New York City. Mr. Ross joined them there.

Eventually, Mr. Ross moved to Chicago, Illinois where his son Egon was living.

All three of the Ross's and Gerhard Pechner became naturalized citizens of the USA. Gerhard on March 11, 1946; Edith on June 3, 1946; Heinrich on December 8, 1947. Egon's naturalization card does not list a date; however, it does state "soldier" so perhaps he served in the US Military in WWII and was naturalized then.

Heinrich had lost his fortune through Nazi confiscation, paying a "flight tax" to leave, as well as the payment of his ship's passage. His personal property had been put in storage in Germany, but was lost to theft before he left.

Reportedly, at the age of 73, Heinrich started working again in a machine shop in Chicago, up to the age of 84. In 1945 he was living in an apartment in the Hyde Park area of Chicago. In 1956, he and his son received compensation from Germany for the loss of their Berlin company in the amount of 50,000 Deutsche Marks (which would have only been the equivalent of $5,000, I believe).

On August 3, 1957, at the age of 86, Heinrich Ross passed away at the Michael Reese Hospital in Chicago, Illinois of a stroke and pneumonia. His death certificate listed his business as Printing. He was buried in the Oakridge Jewish Cemetary in Hillside, Illinois.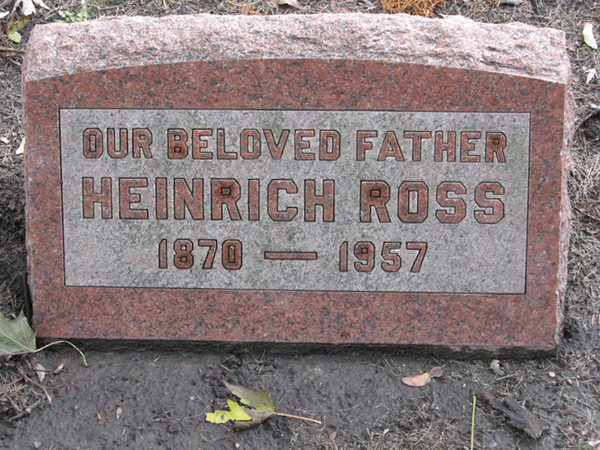 Gravestone of Heinrich Ross at Oakridge Jewish Cemetary in Hillside, Illinois
Photo taken by myself.





His daughter, Edith Pechner died in New York City on Jan. 14, 1966 at the age of 67. Her husband, Gerhard, died on Oct. 23, 1969 at the age of 66. They had not had any children.

Egon Ross died on December 10, 1978, at the age of 78, in Chicago. He had never married, and presumably had no children. He was also buried in the Oakridge Jewish Cemetary.

Thanks to Werner Mohr, an online forum with Detlef Krenz, and the United States Holocaust Memorial Museum for some of the above information. Also special thanks to my brother and sister-in-law, Jim and Kathy Goffee, for driving me around Chicago for my research.


Ross Verlag postcard of Heinrich Ross' future son-in-law, Gerhard Pechner.
Photo from collection of Klaas Dierks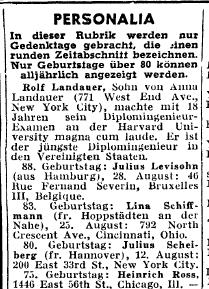 International Jewish Magazine Aufbau of August 17, 1945 that mentions Heinrich Ross's 75th birthday and his residence in Chicago. Taken online from this source: Aufbau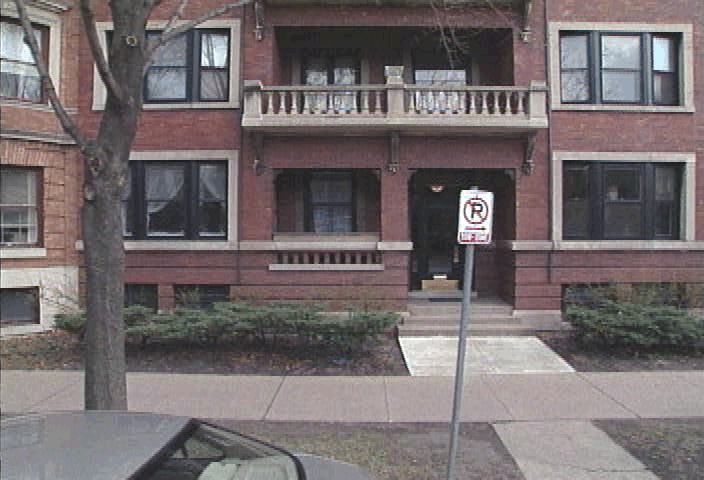 A recent photo of the former residence of Heinrich Ross at 1446 E. 56th St. in Chicago, Illinois. Now a condominium.


FORWARD TO
"THE BEGINNINGS -- ROTOPHOT"

BACK TO THE MAIN PAGE